RESEARCH & DEVELOPMENT
More About R&D Career development FAQ
(日本語は後に続きます)
The Magic behind our brands
This is the team who has come up with some of the world's most well-known brands, like SKII, Ariel, JOY, Pantene, Pampers, researched, developed, refined, tested and perfected them. R&D professionals at P&G work with advanced technology to launch products that have the potential to change the marketplace and shape the future of the industry.
P&G is a powerhouse of data. We're proud to say that behind every brand is robust science —and equally remarkable scientists: women and men who are among the world's foremost experts and who have dedicated their careers to understanding consumers, head to toe, at every stage and every age, so they can bring amazing science into consumer's life every day. We're talking cutting-edge technology, "hands-on" labs and pilot plants, 41,000+ active patents and a team full of inventors.
C

onsumer at the center:
We believe innovation starts with the consumer. ("Consumer is Boss") We start research and development by firstly understanding and exploring consumer needs. We constantly strive to understand the changing needs of potential consumers and the needs that existing products cannot fully meet. Through this effort, we can generate ideas for many new products or products that are ahead of the time. On the other hand, existing technologies and new-emerging technologies based on basic research can also trigger the creation of ideas for new products. Ideas or prototypes that realize the possible technology are created, refined, and tested to create consumer delight. Innovation occurs when "What's Needed" (but hasn't been experienced) is matched with "What's Possible" (but hasn't been developed).
In P&G, Consumer is at the center of everything we do. And, every single day, we work to find new and better ways to help people and improve their lives in small but meaningful ways with our brands and products.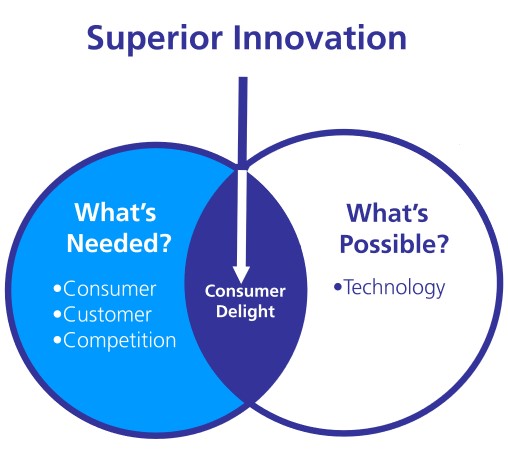 ブランドを支える「マジック」
R&D(研究開発)チームは、研究と開発を通して、世界的に有名な数々のブランド(SK-II、アリエール、ジョイ、パンテーン、パンパース等)を構築してきました。P&Gでの研究開発のプロであるR&Dは、高度な技術を応用して、市場を変えうる、さらには業界の未来を形作る可能性をもった製品を発売していきます。
P&Gはデータを駆使する会社です。すべてのブランドに、それを支えるゆるぎないサイエンス、ならびに優れた科学者たちがいることを誇りに思っています。優れた科学者たちは、女性も男性もおり、世界で最も優れた専門家であったり、消費者をくまなく(どのライフステージでも、どんな年齢層の方をも)理解することに特化した方であったりします。それらを活かすことによって、素晴らしい科学技術を消費者の毎日の生活の中に持ち込むことができます。私たちには最先端の技術に加え、実践的なラボやパイロットプラント、41000以上の有効な特許と、もちろんたくさんの発明家たちがいます。
消費者中心のイノベーション
イノベーションは消費者から始まると考えています ("Consumer Is Boss")。私たちはまず、消費者ニーズを理解することから研究開発に取り掛かります。私たちは常に、時代とともに変化する潜在的な消費者のニーズや、これまでの製品では充分に満たせなかったニーズを理解しようと努力を重ねています。この努力により、数多くの新製品、または時代を先取りした製品のアイデアを生み出すことが出来ます。一方、既存技術や基礎研究による新しいテクノロジーもまた、新製品のアイデアを創り出す引き金となりえます。可能性のある技術を使用したアイディアやプロトタイプを作成、改良、テストし、消費者を喜ばせ満足させることができるかを確かめます。優れたイノベーションは、「何が求められているか (What's Needed?)」と「何が作りえるか(What's Possible?)」をうまくかけ合わせることでおきます。
P&Gでは何をするにしても消費者が中心です。私たちは毎日、私たちのブランドと製品を通して、小さくても有意義な方法で人々を助け、人々の生活を改善するための新しくより良い方法を見つける努力をしています。
More About R&D
P&G R&D is a world-wide organization with 13 innovation centers globally. In addition to the Kobe Innovation Center located in Japan, the other innovation centers are shown below.
P&G R&Dは、世界に13のイノベーションセンターを持つ世界規模の組織です。日本にある神戸イノベーションセンターに加えて、他のイノベーションセンターは次のとおりです: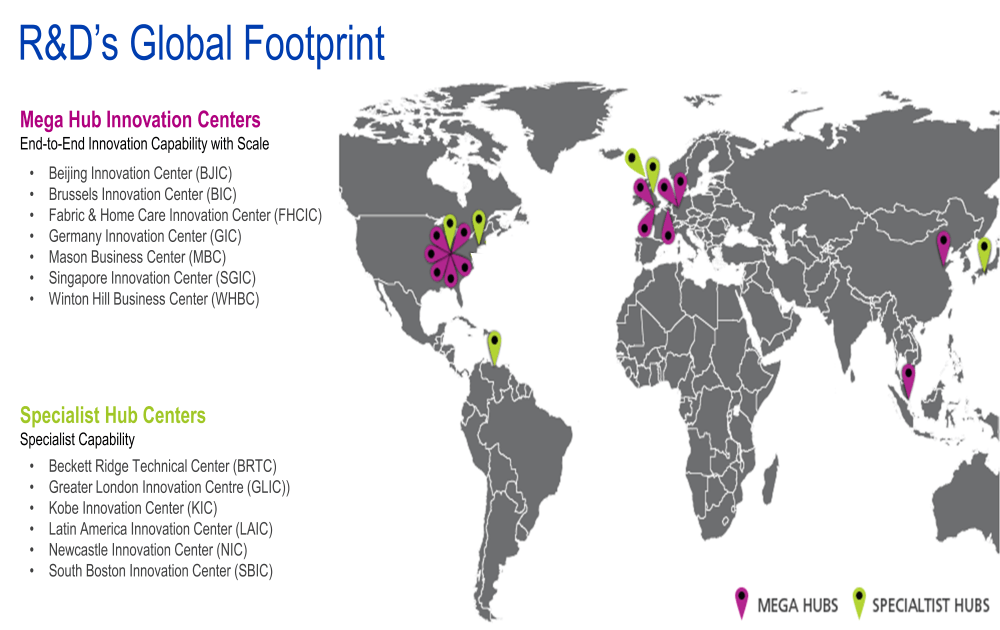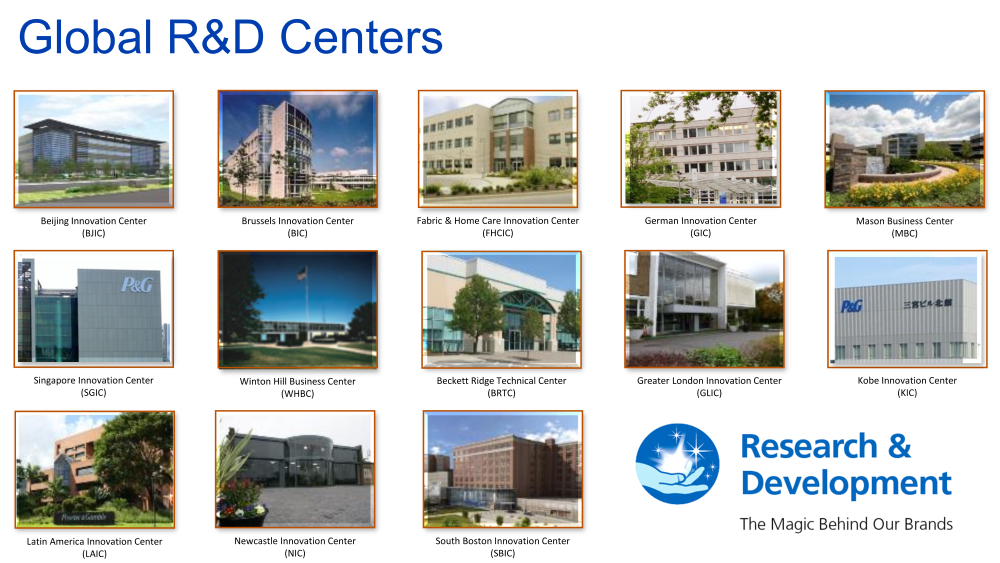 There are various disciplines within the R&D organization, with each discipline in charge with investing in the development of key capabilities and technologies that are critical to the future of P&G R&D. We build technical mastery through these disciplines, which is essential for breakthrough innovation. Some examples of these disciplines are:
Products Research Discipline

Innovation Center Operations Discipline

Data & Modeling Science Discipline

Packaging Discipline

BioSciences

Discipline
R&D組織にはさまざまな分野があり、各分野はP&G R&Dの将来にとって重要な主要機能とテクノロジーの開発への投資を担当しています。私たちは画期的なイノベーションに不可欠なこれらの分野を通じて技術的な熟練を築きます。これらの分野のいくつかの例は次のとおりです:
Products Research Discipline

Innovation Center Operations Discipline

Data & Modeling Science Discipline

Packaging Discipline

BioSciences

Discipline
Career development
Career path in R&D: There are two different career tracks to follow in R&D at P&G: Researcher career track, and Scientist career track. In principle, "Associate Scientist" and "Associate Researcher" will be the entry positions. Scientist Career Track (in blue color), branches into two career paths.  One is primarily a management career, you will eventually manage new product development projects and R&D organization. The other is a technical career, where you will build high technical expertise in specific areas, and lead innovations that are important for business from the technical aspect. Researcher Career Track (in orange color), as a technical specialist in product development, you will eventually become a core carrier of P&G's technical resources that solve technology-related problems in product development.
P&G training is designed according to career levels or job types, so you can receive the appropriate trainings you need when you need it. When you join the company, for example, you will firstly need to find out what knowledge and capabilities you need to acquire. At this phase, new hire orientation across functions and dedicated onboarding for R&D new hires are well planned so you can be firmly prepared with necessary knowledge to quickly start R&D job. From the second year onwards, the number of trainings available will increase based on needs and purpose. You can find out what kind of knowledge and capabilities you want to acquire and take trainings when you need it, so you can grow more efficiently. Of course, daily work is also a great place to learn and grow. You are expected to grow every day while watching the work of the seniors around you.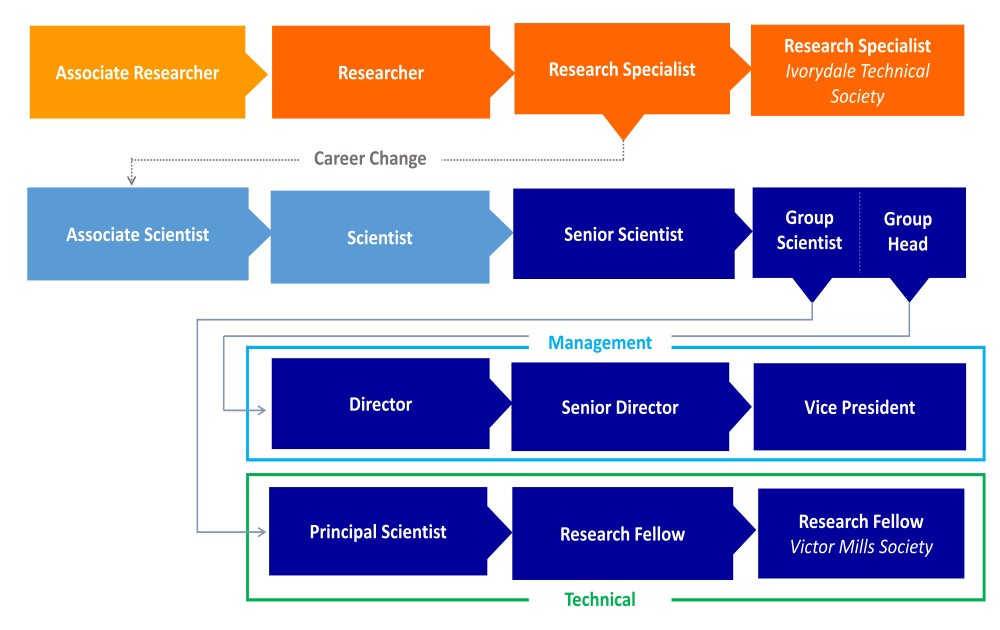 R&Dで入社後のキャリアパス: 原則「アソシエイト サイエンティスト」及び、「アソシエイト リサーチャー」がエントリーポジションとなります。 ブルーのサイエンティストキャリアは、2つのキャリアパスに分岐します。1つは、主にマネジメントキャリアとして、最終的には新製品プロジェクトやR&D組織を管理するキャリアになります。もう1つは、テクニカルキャリアとして、ある特定の分野で高い専門性を築き、技術面からビジネスに重要なイノベーションをリードしていくキャリアになります。オレンジのリサーチャーキャリアトラックでは、製品開発を実行するテクニカルエキスパート(技術専門家)として、最終的には、開発上の技術関連課題を解決するP&Gのテクニカルリソース(技術資産)のコアを担うキャリアになります。
P&Gのトレーニングの特色は、必要なトレーニングが必要なときに受けられるというところにあるのではないかと思います。入社直後は、仕事をしていく上で何が必要な知識・能力なのかも探らなければならないような時期です。そんな時期には、会社として、会社全体の新入社員研修や、部署別(R&D)新人トレーニングといったプランがしっかりと準備されていて、R&Dとして仕事をしていく上で最低限必要な知識が入社後すぐに身につけられるようになっていました。2年目以降になると、それぞれの必要性・目的に応じたトレーニングが増えてきます。自分が身につけたい知識・能力が何であるかを自分で見つけ、必要な際にトレーニングを受けることができるので、より効率よく成長していくことができます。もちろん日々の仕事も大きな成長の舞台です。自分の周りの先輩方の仕事を見ながら、日々成長していくことが求められています。
FAQ
Q01.
Is there any different offering or screening criteria for Associate degree, Bachelor, Master and PhD degreee?
準学士、学士、修士、博士により採用上・選考上の違いはありますか?
A01.

We have multiple roles and positions in R&D, each position has different technical requirements, such as position that requires a PhD degree. We have separate criteria and recruiting activities for Master degree from Associate degree/Bachelor degree. No matter which course you are in, all candidates need to pass P&G recruiting criteria. *Job application for Bachelor Degree is currently not open. For Associate Degree (Kosen graduates), please go to "Kosen Saiyo site" following the link at the top right of this page.

採用基準が異なります。そのため、採用時においても、選考を別々に行います。ただし、学位に関わらず、すべての方が

P&G

の採用基準をパスしなければなりません。

※学士卒採用は現在行っておりません。準学士(高専卒)の方は本ページ右上の「高専卒採用サイト」をご覧ください。

Q02.
Is there any advantage of specific major/education background at University?
専攻はどの程度重要視されているのですか?
A02.

P&G has various brands and products in the market,

our

technical

areas for product development

are mainly chemistry and chemical engineering, meanwhile,

there are also categories

where you can leverage

the

technical knowledge of mechanical engineering, pharmacology, biology, etc

.

As long as you have scientific education at university, we are not limiting

majors for recruiting.

It is more important that you meet P&G's recruiting criteria.

(

However, w

e expect that you

will

leverage your

scientific

educations

in

R&D

career

as much as possible

. With this expectation, it is ra

r

e

for us

to hire a person with Electrical/ Informatics background, since

there are very few positions

in R&D which require

this

knowledge.)

P&Gの製品は多岐に渡っており、技術分野も化学・化学工学を中心としていますが、機械工学、薬学、生物学などの知識を活かすことのできるカテゴリーもあります。研究開発本部では、基本的に大学で理系の専攻であれば、その中での専攻は重視しておりません。専攻よりも前に、P&Gの採用基準を満たしているかどうかが重要視されます。( ただし、できる限り、大学での専攻を仕事に活かしていただきたいと考えておりますので、研究開発の中で、大学で学んだことを活用できる範囲が非常に少ない電気・情報系の方は、採用することが非常に稀です。)
Q03.
Do you have Job Rotation across functions?
部門間のジョブローテーション(職務歴任制度)はありますか?

A03.


We do not have a regular job rotation across functions for all employees. This is meant to help employees develop an in-depth career within one function by eliminating cross-functional change. The employees can develop technical knowledge and skills through multiple tasks and experiences in the function, which enables them to perform high level jobs from an early stage.
定期的に全社員を対象とする全部門間のローテーションはありません。これは、部門間の異動をなくして、その人のキャリアをその本部の中で縦に伸ばしていこうという主旨です。1つの本部の中にも多種の仕事があり、それらを体験することによってその部門での専門知識を全般的に身につけていき、早い段階から高度で、専門的な責任のある仕事を行っていくことができるというものです。
Q04.
Is there any chance to move to other function by personal preference after joined the company?
入社し、仕事を始めてから、本人の意志で他本部へ異動することはできるのですか?
A04.
In principle, we do not transfer an employee to other functions by regular basis. In P&G, there is work plan review at least once a year, where you can discuss your career with your manager. The manager will support your cross-functional transfer, when he/she agrees that you can maximize your capability/skills in other functions. Separately, the company has "Open Job Posting" (Internal Job Posting System), and employees can apply to an open position (including other functions). We own our career and we make decision for our career.
原則として他本部への定期的な異動等はありません。ただし、年に1度行われる ワーク・アンド・ディベロップメント・プラン で上司と話し合い、その人の能力が最大限に発揮されるように他の本部に配置が変わることはあります。また、オープン・ジョブ・ポスティング(社内公募制度)が全社的に展開されていますので、公募されているポジション(他本部含む)に応募することで、自らキャリアを選択することもできます。
Q05.
When and how the initial category/group will be assigned?
最初のR&D内での配属はいつどのように決められるのですか?

A05.


In R&D, we assign the initial category/group to a candidate in the recruiting process. We review and understand the business needs of each product category and assess which category fits the candidate based on the candidate's capabilities, scientific background and career interest. There is no commitment that our category assignment will meet the candidate's interest and preference.
R&D

の場合は、選考過程の中で決定されます。

R&D

各製品カテゴリー及びグループでのビジネスニーズと、個人の資質・専攻・希望を総合的に判断し、どの製品カテゴリー及びグループで選考を進むかを決定します。本人の希望を伺いますが、必ずしも希望通りの製品カテゴリー及びグループで選考を進むことになるとは限りません。

Q06.
How does the training program look like?
どのようなトレーニングを受けることができますか?

A06.

Our training can be categorized to 3 groups: 1) On the Job Training (OJT), 2) Functional Training and 3) Corporate Training. All trainings are rich variety both quantitatively and qualitatively.
P&G

のトレーニングは基本的に

3

つにわけて説明することができます。

(1)

オン・ザ・ジョブ・トレーニング

(

実務訓練

)

、

(2)

ファンクショナルトレーニング

(

職種別トレーニング

)

、

(3)

コーポレートトレーニング

(

会社全体としてのもの

)

があります。それぞれ質・量的に非常に充実したものといえます。

Q07.
Do I have any chance to be on an international assignment?
海外勤務について、可能性はありますか?

A07.


Yes. You have a chance to be hired by Singapore Innovation Center directly or you have a chance to be transferred to other Innovation Center outside of Japan after you join Kobe Innovation Center. R&D is a global organization, we collaborate and work together with other Innovation Centers for development works or technology transfer. You also have a chance to be on a short-term international assignment or training assignment in other sites.
あります。シンガポールの研究所に直接採用される可能性もありますし、神戸の研究所に入社した後に海外の研究所へ異動する可能性もあります。また、技術開発や技術移転のため、世界各国のR&D

が協働することが必要ですので、短期の海外勤務の可能性もあります。また、トレーニングを主目的とした海外への派遣も行われています。

Q08.
Are the product package and formula the same across the world? If not, how are they different?
製品のパッケージ(包装)やフォーミュラ(処方)は世界共通なのですか?

もし違うならどのように違うのですか?


A08.


We design the product package and formula with the intent to serve global market. However, consumer needs vary by regions and countries because of their lifestyles, therefore we develop products to meet specific consumer needs in that region. For instance, Japanese consumers wash clothes twice as frequent as US consumers, while Japanese consumers drive for shopping less than US consumers. This is the background that we developed and launched a concentrated laundry detergent in Japan. The technology of this detergent is also applied to US products. For other case, the formula of shampoo is adjusted for different types of hair by race, fragrance (perfume) is also adjusted to meet the consumer preference in the region.
基本的に製品のパッケージやフォーミュラは世界市場に通用するものを念頭において開発されます。しかし、地域・国により消費者のニーズや生活習慣などが大きく異なるので、その地域・国特有の消費者のニーズを満たした商品を開発しています。
たとえば、日本の

消費者

はアメリカの

消費者

の2倍頻度で洗濯を行うという違い、買い物に行く時の自動車の利用率がアメリカより低い日本でコンパクトタイプの洗剤が生まれ、逆にその技術はアメリカなどでも活かされています。また、人種の違いからくる髪質の違いに対応するためシャンプーやリンスなどのフォーミュラは調整されますし、そうした製品のフレグランス (香料) もそれぞれの国の消費者の好みに合わせています。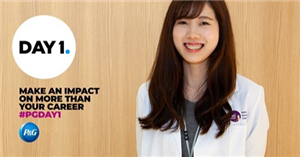 高専卒採用サイト≫
MEET OUR PEOPLE